About Chairman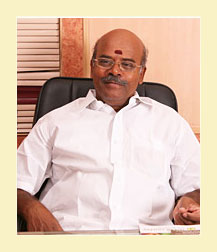 Founder Chairman
Thiru. J.Rajendra Prasad
"Education is all about the pursuit of excellence in every aspect of life".
Thiru J.Rajendra Prasad, a man of success with inclusive thoughts is the founder- chairman of Jairam Public School Salem. He is renowned for thinking ahead of times and for his progressive plans that are unique and valuable. He is well-known for his effective management and spirit of promoting excellence in education and has dedicated himself completely for promoting quality education and to spread knowledge and discipline amongst the youth.
He is a leading educationalist and philanthropist and he serves as the Correspondent and Secretary of Vysya College established in the year 1990 and it is affiliated to Periyar University Salem. This is the first college to be accredited with Prestigious" A "grade Status by National Assessment and Accreditation Committee (NAAC), Bangalore.
With this valuable experience and in fond remembrance of his father Thiru. Jairam Chettiar he constructed the HI-Tech Institution JAIRAM COLLEGE in the year 2001.
This multi -faceted personality with his 21 years of experience in the field of higher education has stepped into another milestone JAIRAM PUBLIC SCHOOL for Kids. A School with all Hi-Tech facilities, safe, secure and comfortable infrastructure with modern teaching methodologies. It ensures the child's intellectual, emotional, physical and spiritual development and aims to produce successful, responsible, creative, global citizens with Moral values.
Chairman message
With the blessings of Almighty and of all well wishers,
I strive to make this campus "A SCHOOL WITH A DIFFERENCE"
Thiru. J.Rajendra Prasad Correspondent and Secretary , VYSYA COLLEGE Chairman ,JAIRAM COLLEGE, JAIRAM PUBLIC SCHOOL
News & Events